10 Most Memorable Quotes From The Jurassic Park Franchise
The original Jurassic Park movie, directed by Steven Spielberg, wasn't just a great movie. It changed Hollywood forever. It pioneered CGI technologies and brought extinct species to life, leaving audiences in awe. As a result, it became the highest grossing movie of all time and sequels continued for decades to come.
We're currently in the middle of the rebooted franchise, the Jurassic World trilogy, which has expanded the fictional universe so much that dinosaurs now co-exist with humans in the United States. Despite all the dinosaur action, the Jurassic Park movies still have some lines of dialogue that stick in your head after watching them. Here are the 10 Most Memorable Quotes From The Jurassic Park Franchise.
10 "YOUR SCIENTISTS WERE SO PREOCCUPIED WITH WHETHER OR NOT THEY COULD, THEY DIDN'T STOP TO THINK IF THEY SHOULD."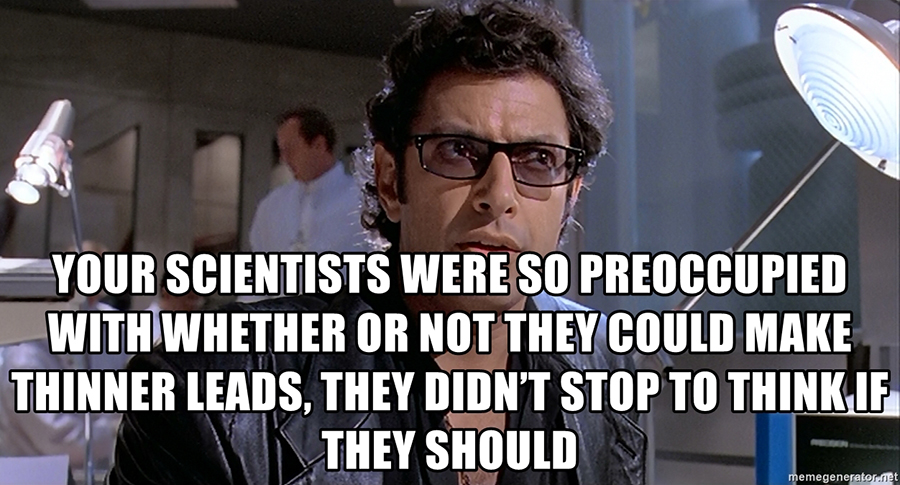 The Jurassic Park movies are at their best when they aren't just showing dinosaurs creating carnage in a failed theme park; they address the moral considerations of cloning and the use of fossils to create new life. Essentially, John Hammond plays God in Jurassic Park and humanity pays the price.
It's a cautionary tale. The ethics of bringing dinosaurs back to life – as well as a lot of today's most questionable scientific accomplishments – are summed up perfectly in this line of dialogue: "Your scientists were so preoccupied with whether or not they could, they didn't stop to think if they should."
9 "YOU DIDN'T ASK FOR REALITY; YOU ASKED FOR MORE TEETH!"
In Jurassic World, Claire has asked the scientists to create a bloodthirsty predator called the Indominus Rex to get ticket sales up. Dr. Henry Wu swiftly outlines the insanity of that plan.
"You are acting like we are engaged in some kind of mad science, but we are doing what we have done from the beginning. Nothing in Jurassic World is natural! We have always filled gaps in the genomes with the DNA of other animals, and if their genetic code was pure, many of them would look quite different, but you didn't ask for reality; you asked for more teeth!"
8 "WHEN YOU GOTTA GO, YOU GOTTA GO."
One of the most memorable moments in the Jurassic Park franchise is when the lawyer Donald Gennaro is running from the T-rex and decides to hide in the bathroom. The T-rex tears the roof off from over him and then eats him on the toilet. It's a great example of how the movies can balance terror with a healthy dose of humor.
Another hilarious little moment that adds to the scene is when Ian Malcolm sees Gennaro fleeing and watches him run into the bathroom while being pursued by a T-rex and says, "When you gotta go, you gotta go." Jeff Goldblum's comic timing with the line is perfect.
7 "WELCOME TO JURASSIC WORLD."
The 2015 Jurassic Park reboot changed the title to Jurassic World, seemingly for no reason. The park was up and running and it had been given a new name – exactly why wasn't clear.
But now that we've seen where the franchise was going, with all the dinosaurs being unleashed on mainland America at the end of Jurassic World: Fallen Kingdom, the new title has been totally recontextualized. Jeff Goldblum's returning character Ian Malcolm summed it up perfectly in the movie's final moments: "Welcome to Jurassic World." Our own world is Jurassic World now. We're in a new era of history.
6 "SOME OF THE WORST THINGS IMAGINABLE HAVE BEEN DONE WITH THE BEST INTENTIONS."
Jurassic Park III is not the best film in the franchise. In fact, it might even be the worst. But it does have this interesting quote. The most annoying character in the movie is easily Billy, the overenthusiastic grad student who won't leave Alan Grant alone.
When Grant finds out that they've been hunted by raptors because Billy stole their eggs, Billy tells him he did it "with the best intentions." Grant retorts, "Some of the worst things imaginable have been done with the best intentions. You know, as far as I'm concerned, you're no better than the people who built this place."
5 "IF THE PIRATES OF THE CARIBBEAN BREAKS DOWN, THE PIRATES DON'T EAT THE TOURISTS."
John Hammond's dinosaur theme park was a huge undertaking, and it didn't help that every time he tried to defend what is undeniably incredible work in the field of cloning, someone – usually Ian Malcolm – would undercut it with a joke.
He tried to say that all theme parks experience issues with malfunctions when they first open: "All major theme parks have had delays. When they opened Disneyland in 1956, nothing worked – nothing!" But then Ian Malcolm presents a pretty ironclad counter-argument: "But if The Pirates of the Caribbean breaks down, the pirates don't eat the tourists." That's hard to deny.
4 "GOD CREATES DINOSAURS. GOD DESTROYS DINOSAURS. GOD CREATES MAN. MAN DESTROYS GOD. MAN CREATES DINOSAURS."
The first sentence in this quote would later form the title of Dr. Ian Malcolm's book, God Creates Dinosaurs. He wrote the book after the events of the first movie and it caused conflict for him in the second, since writing it at all was a direct violation of the non-disclosure agreement that Hammond had made him sign when he first came to the park.
It's an apt way to explain the millions of years of events prior to the movie: "God creates dinosaurs. God destroys dinosaurs. God creates man. Man destroys God. Man creates dinosaurs." This is followed by Ellie Sattler's wishful thinking for a post-Jurassic Park future, delivered perfectly by the great Laura Dern: "Dinosaurs eat man. Woman inherits the Earth.
Although he's a hunter, Robert Muldoon has a great respect for the animals he hunts. A lot of the brash, gun-toting dinosaur hunters in the Jurassic Park movies mock the dinosaurs and see them as inferior, but not Muldoon. He can recognize when he's been bested by the cunning survival skills and animal instincts of his prey.
When a velociraptor manages to sneak up on him and he realizes he's about to be killed, he simply says, "Clever girl." He's actually proud of this raptor for being able to creep up to him and kill him. Most people would just scream.
2 "WE CAN DISCUSS SEXISM IN SURVIVAL SITUATIONS WHEN I GET BACK."
It's a surprise that Ellie Sattler doesn't come up in more people's discussions of feminist movie characters, because she's faced with a lot of sexism in the Jurassic Park movies and she doesn't take any of it. First, she suggests that after men have idiotically brought dinosaurs back to life and been killed by them, women will inherit the Earth.
Then when Hammond suggests he should head out to the breaker house, just because he's a man, she sighs, "We can discuss sexism in survival situations when I get back," before going off to do it herself. Not only is she sick of men assuming she's not capable – she follows it up by being more capable than them.
"Life finds a way," as well as various derivatives of it, is easily the most recognizable and memorable quote from the Jurassic Park franchise. In four words, it sums up exactly what the movies are about.
Initially, they're about humans trying to play God, but when that turns out poorly for them, thanks to nature doing its thing, they realize that it's wrong to play God (even though they keep doing it in sequel upon sequel). In other words, life finds a way. Malcolm elaborates on his point in The Lost World: "These creatures require our absence to survive, not our help. And if we could only step aside and trust in nature, life will find a way."
Source: https://screenrant.com