This Ram 'T-Rex' Is The Perfect 6x6 For Touring Jurassic Park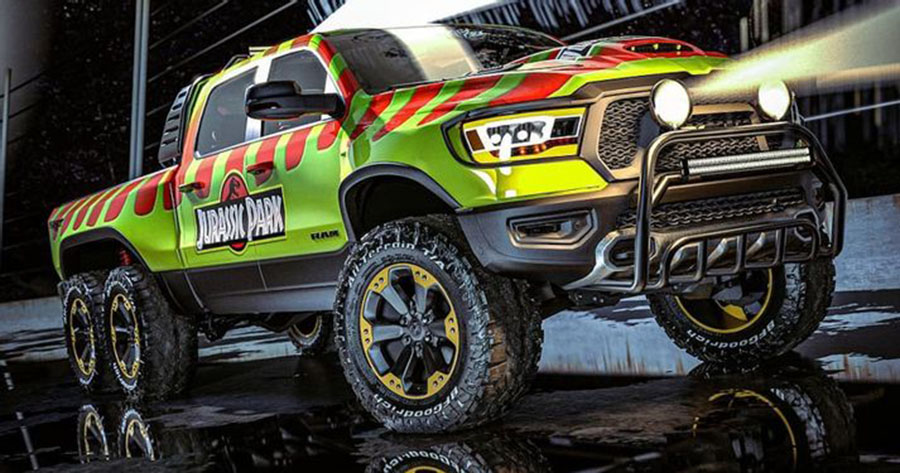 The world's fastest production pickup gets six wheels and an iconic movie livery in a digital artist's rendering.
The Jurassic Park movies are filled with every kind of car imaginable—modified off-roaders, classic muscle cars, even luxury rides from Germany. In the end, though, the vehicles merely exist as fodder for the dinosaurs to trample over and dominate. Now, a new, imaginary Jurassic Park vehicle has emerged that, despite being a digital rendering, looks capable of taking on even the fiercest dinosaurs populating Isla Nublar.
World's Fastest Pickup Gets Six-Wheels And New Paint
The Ram 1500 TRX is already a potent truck when it rolls off the factory line. The 2021 model has a 6.2-liter supercharged Hemi capable of launching the pickup 0-60 mph in just 4.5 seconds. While it's hard to imagine turning the dial up even more on this insane pickup, one digital artist took up the challenge to create a TRX that's on another level.
Self-proclaimed 'American Muscle Enthusiast' Timothy Adry Emmanuel, who goes by @adry53customs on Instagram, reimagined the TRX as a full-blown 6x6 covered in the iconic Jurassic Park livery seen on the Ford Explorers in the original film. Appropriately, Emmanuel renamed it "T-Rex" and dropped it in one of the film's most memorable scenes: the first tyrannosaurus rex encounter.
Features In Rendering Are Closer Than They Appear
Shod in BFGoodrich all-terrain tires, the behemoth looks ready to kick up lots of dirt and mud for an epic escape. Plus, this one's got some spares in the trunk in case things get hairy—though it's unconfirmed whether Dr. Ian Malcolm has enough room to sprawl out in back during the getaway.
It's unusual to see a TRX painted so brightly, but the livery looks perfect. Even the red pattern on the front brings out certain features more, such as the hood scoop.
The water puddles also add an eerie effect to every angle shown, which each contain a reflection of the TRX's colorful exterior without distracting from the truck itself.
A 6x6 Ready For The Apocalypse
Emmanuel's creation isn't so farfetched, either, as Apocalypse Manufacturing just revealed its "Warlord" Hellcat-powered Ram TRX 6x6 vehicles this week. The Florida-based company bumps the pickup's horsepower up to 702 and shaves the 0-60 mph time down to 4 seconds. All a Warlord needs now is a Jurassic Park themed livery, and it's set to take on dinosaurs and the apocalypse—so pretty much anything.
Source: www.hotcars.com/