How Hollywood's Decades-Later Sequels Stack Up
Thursday, October 12, 2017
Harrison Ford appears destined to reappear as much-aged versions of the characters that made him a star: Han Solo, Indiana Jones, and now Blade Runner's Rick Deckard. These decades-later followups rarely match the box office power of the original when inflation is taken into account.
That pattern was evident with both Star Wars (38 years between A New Hope and The Force Awakens) and Indiana Jones (27 years between Raiders of the Lost Ark andKingdom of the Crystal Skull). Now Blade Runner 2049, with its 35-year gap between Blade Runner and the newly released sequel, hopes to avoid that fate. It's off to a slow start, taking in a disappointing $31.5 million in its opening weekend in North America, according to an estimate by ComScore.
Movie studios have made the reboot tactic commonplace: Take an old franchise steeped in fan nostalgia, revive it with an ample budget for stars and modern special effects, and hope to score big. Blade Runner 2049 cost $150 million to produce, not including marketing costs, and the opening box office take fell short of expectations, despite glowing reviews from critics. It still might be the rare example of later-date followup that outperforms the original at the inflation-adjusted box office, in larger part because 1982's Blade Runner wasn't a huge success and gained a hardcore following only after its initial run.
These followup films are often sold as soft reboots. Rather than resetting the series entirely, they maintain the storyline continuity from previous films, either as a prequel or sequel often set many years away from the original. The category includes revamps of such cult films as Blade Runner and Evil Dead as well as extensions of commercial powerhouses such as Star Wars and Rocky. Few of these films following decades after the original title totally bomb at the box office, helped by preexisting fan bases loyal to the franchise.
But a look at inflation-adjusted ticket sales data, which includes sales from multiple releases, casts doubt on the ability of these soft reboots to pull in more viewers than the initial title. Most come up short at the domestic box office compared with their hugely successful predecessors.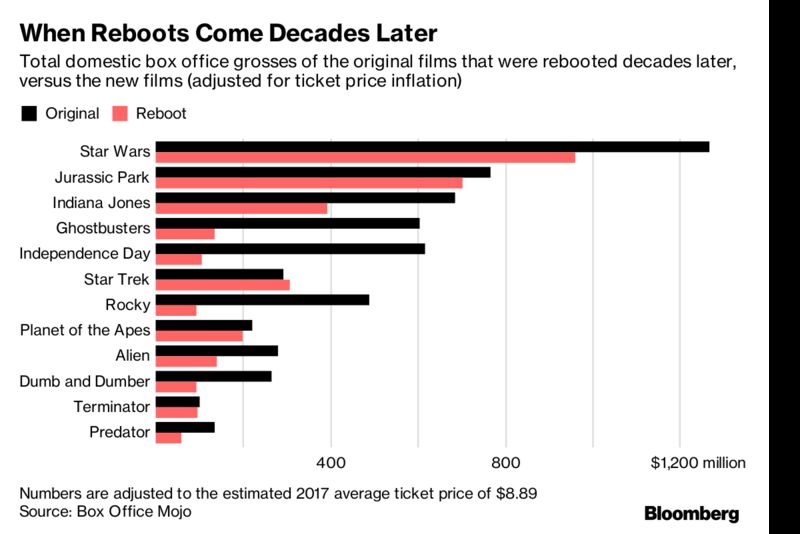 It's not that these next-generation films aren't commercially successful—they're just going up against some of the biggest hits of all time. In unadjusted sales, in fact, many will come out on top of the originals, thanks to wider distribution.
Jurassic World, the sequel to Jurassic Park released 22 years later, was the No. 2 movie at the box office worldwide in 2015. The Force Awakens topped global charts at more than $2 billion in global sales. The new Planet of the Apes trilogy has fared well, too, nearly a half century after Charlton Heston first crashed on a world full of aggressive gorillas.
Mad Max: Fury Road may be the most critically acclaimed of all these new tales. George Miller's new narrative in the barren dystopia of 1979's Mad Max was rewarded with six Academy Awards and hauled in $378.4 million at the global box office. It far outpaced the original, too, since the first film never enjoyed blockbuster status.
Many of these new films, such as 2015's Terminator: Genisys, took advantage of an international market that wasn't available when the original came out. The first Terminator, which came out in 1984, made about 51 percent of its box office haul overseas. Its wildly popular sequel, Terminator 2: Judgement Day, made about 60 percent of ticket sales overseas. By the time Genisys appeared, markets outside the U.S. accounted for about 80 percent of its global gross.
Then there are the failures. The much-hyped new Ghostbusters, released in 2016, didn't gain much traction and was severely outperformed by the the 1984 film despite showing in thousands of additional theaters. A 2017 full reboot of The Mummy, a franchise that has been reset numerous times since the 1930s, flopped at the box office despite casting Tom Cruise in the lead.
There are plenty more reboots to look forward to (or dread). Dwayne Johnson is set to star in a remake of the 1986 cult classic Big Trouble in Little China. A new Cliffhanger film is in the works, although there's no word yet if Sylvester Stallone will rejoin the mountain climbing franchise as he did in Rocky Balboa and Creed. Sci-fi saga The Matrix is reportedly coming back for more slow-motion action sequences as well.
Oh, and Harrison Ford still has a few roles from the 1980s he could renew.
Source: bloomberg.com