10 Places Every Dinosaur Fan Needs To Visit
Friday, September 6, 2019
Many are fascinated with dinosaurs, soaking up facts about these large creatures and watching movies that star them. And thankfully, there are several spots around the world that focus on dinos, allowing guests to learn even more, dig up fossils, explore pieces from the past, and even interact with life-like ones.
For those who are ready for a new adventure and who are fans of these guys, consider traveling to the 10 places that are listed out down below. From museums and parks to filming locations and tourist attractions, these are the top places all dinosaur fans need to see!
10 - PARQUE CRETÁCICO IN SUCRE, BOLIVIA
Cretaceous Park has tours, life-size skeletons and the world's largest site of dinosaur tracks. Yes, the main thing to see here is Cal Orcko, the site of the planet's most extensive dinosaur footprints, with over 5,000 individual prints from at least 8 species.
There are also over 20 life-sized replicas of 12 different species of dinosaurs to check out, so guests can imagine what life was once like in Sucre, Bolivia. This location also offers a Museum of Paleontology, library, gift shop and restaurant that people can enjoy.
9 - MUSEUM OF THE ROCKIES IN BOZEMAN, MONTANA
The largest collection of dinosaur remains in the nation can be found at the Museum of the Rockies in Bozeman, Montana.
This museum also has several other notable displays, such as the biggest Tyrannosaurus skull that has ever been found, a T. rex thigh bone that has soft-tissue remains, two of the only complete T. rex specimens that have ever been found and one of the first female dinosaurs, which is also a T. rex. Furthermore, the curator of this spot, Jack Horner, was an adviser on the Jurassic Park movies!
8 - ROYAL TYRRELL MUSEUM IN ALBERTA, CANADA
Part of the Royal Tyrrell Museum is the Dinosaur Hall, which has more than 40 dinosaur skeletons, as well as a Cretaceous Garden (showing the plants that used to be in Alberta, Age of Mammals & Ice Ages (showing Cenozoic mammals) and the Triassic Giant (the biggest known marine reptile in the world).
Also in this area is the World's Largest Dinosaur; this is a model of Tyrannosaurus rex that is 86 feet tall and 151 feet long, and inside, there are 106 stairs that lead to a viewing area in the mouth!
7 - AMERICAN MUSEUM OF NATURAL HISTORY IN NEW YORK, NEW YORK
New York City's American Museum of Natural History is the biggest of its kind on the planet, with 28 buildings, 45 exhibition halls and 33 million specimens. And while this spot houses the biggest collection of mammal and dino fossils that is out there, most of them are hidden away and used primarily for research.
Still, some very cool exhibits can be seen, like a Tyrannosaurus rex built nearly entirely out of real bones, and an Edmontosaurus annectens, a herbivorous ornithopod dinosaur that is mummified.
6 - PHU WIANG NATIONAL PARK & SIRINDHORN DINOSAUR MUSEUM IN THAILAND
Thailand has several notable paleontological sites, museums and displays of fossilised footprints. One is the Phu Wiang National Park, which is one of the biggest dinosaur graveyards on the planet. There are also many fossils at the Sirindhorn Dinosaur Museum, which used to be called the Phu Kum Khao Fossil research center. While driving to and around these areas, visitors will see replicas of dinosaurs on the side of the road… including an animatronic Tyrannosaurus rex that will give out a life-like roar!
5 - JURASSIC PARK FILMING LOCATIONS IN HAWAII
Jurassic Park came out in 1993, after being based on Michael Crichton's novel from 1990. In the story, the action takes place on Isla Nublar, near Costa Rica, but in real life, many of this popular film's scenes were shot in Hawaii and, more specifically, Kauaʻi.
The well-known Gallimimus chase scene was filmed at Kualoa Ranch in Oahu, the opening scene was shot in Haiku, Maui, and the outside views of the Visitor Center were done at the Valley House Plantation Estate in Kauaʻi, according to LegendaryTrips.com.
4 - THE FIELD MUSEUM IN CHICAGO, ILLINOIS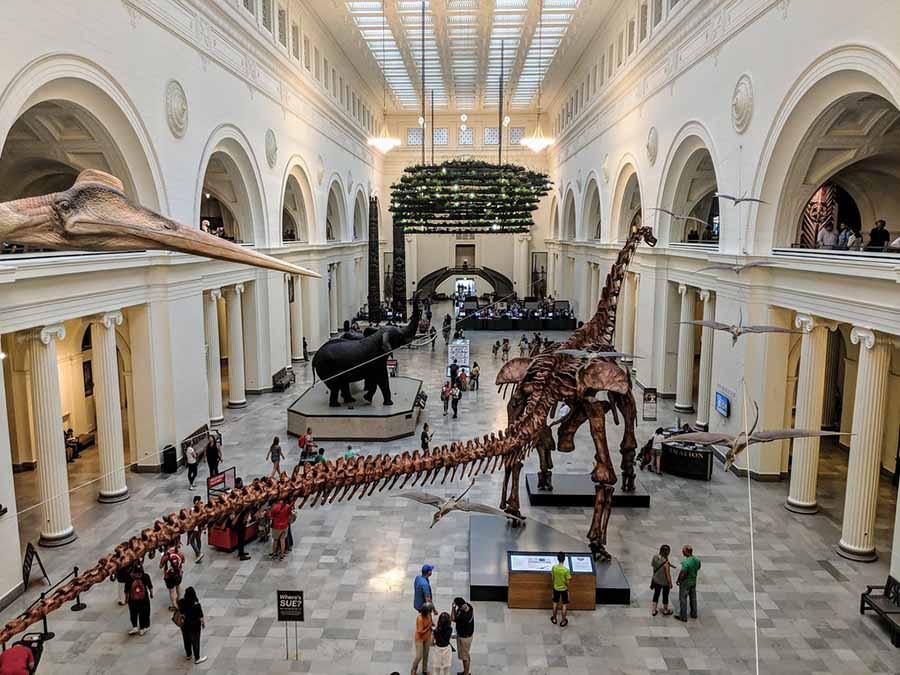 One of the biggest natural history museums in the world is Chicago's Field Museum of Natural History. It has esteemed educational programs and artifacts, and the collections actually came from the 1893 World's Columbian Exposition. The main thing that fans of dinosaurs will want to see here is Sue, the biggest T. rex specimen that has ever been found. She is over 40 feet long. She is 13 feet tall. She weighs between 8.4 and 14 metric tons. And she is 67 million years old.
3 - DINO PARK IN REHBURG-LOCCUM, GERMANY
Dino Park, the biggest scientific adventure and theme park in Germany, is a place that the whole family can visit and enjoy. As an open-air museum, it offers up trails, facts, 230 (yes, over 200!) life-like replicas of dinosaurs and other prehistoric animals, more than 300 (yes, over 300!) fossilized dino tracks and a dino lab.
There is also a sun terrace by a natural pond that is filled with fun creatures and an exhibition about prehistoric giants of the seas, as well as an adventure playground.
2 - UNIVERSAL'S JURASSIC PARK IN ORLANDO, FLORIDA
Of course, many people are into dinosaurs due to the Jurassic Park movie, and at Universal's theme parks, fans can feel like they are actually stepping into this story. In Orlando, for instance, there are rides, attractions and restaurants themed around these flicks at Islands of Adventure; there is the Pteranodon Flyers ride, the Raptor Encounter featuring the character Blue and the Jurassic Park River Adventure. This last ride puts guests face to face with a T. rex, so those who enjoy dinos and thrills have to experience this!
1 - UNIVERSAL'S JURASSIC WORLD IN UNIVERSAL CITY, CALIFORNIA
Universal Studios Hollywood has similar adventures that people can enjoy, such as the Raptor Encounter, DinoPlay, Isla Nu-Bar, the Jurassic Café and Jurassic Outfitters. The main attraction here, though - which is the last suggestion on this list of places to visit - is Jurassic World – The Ride. It is similar to the ride in Orlando, yet it promises to be "more real" and "more intense". While on this, fans will even get to see some of the big, new, exciting dinosaurs from the Jurassic World movies.
Source: www.thetravel.com