'Jurassic Park' Flashback: Behind-the-Scenes Photos From the 1993
Monday, December 19, 2016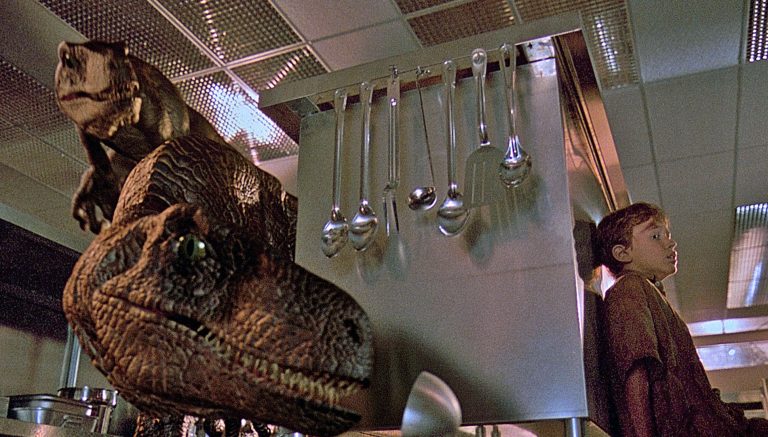 Take a look back at the movie that started it all: 1993's 'Jurassic Park.' Steven Spielberg's classic about test-tube dinosaurs on the rampage in a jungle theme park was a landmark in computer-generated visual effects and still remains one of the best action-adventure movies of all time.

Sam Neill, Laura Dern, and Steven Spielberg
Neill and Dern play the intrepid paleontologists Dr. Alan Grant and Dr. Ellie Sattler, whose tour of Jurassic Park goes catastrophically awry.

Joseph Mazzello and Steven Spielberg
Spielberg works with Joseph Mazzello, who plays Tim, one of park creator John Hammond's grandchildren. "Steven wrote me a recommendation for USC to go to film school. Believe it or not, I got in," the grown-up actor told People in 2013. "He's been there for me throughout my life whenever I really needed him."

Steven Spielberg
Spielberg during the filming of 'Jurassic Park.' "My early exposure to all the leviathans of the Saturday matinee creature features inspired me, when I grew up, to make 'Jurassic Park,' Spielberg once said.

Steven Spielberg
Spielberg poses between a pair of giant dinosaur feet in a publicity still. The director thought the movie's fearsome T. rex was "the star of the movie."

Steven Spielberg
Spielberg wears a dino-appropriate T-shirt during the shoot.

Steven Spielberg
Spielberg poses with a Triceratops puppet.

Steven Spielberg
Spielberg on set. Last year, Dern described how the director would roar into a megaphone so the actors would know where to look during a scene.

Richard Attenborough and Steven Spielberg
The late Richard Attenborough — who played park guru John Hammond — with Spielberg. A statue of Hammond is in the visitor's center of the new park in 'Jurassic World.'

Jeff Goldblum, Steven Spielberg and Laura Dern
Jeff Goldblum, who plays mathematician Ian Malcolm, with Spielberg and Dern. In 2013, Dern told 'Vanity Fair,' "Not a week goes by that I'm not approached by someone about 'Jurassic Park.' That's just something that people to love to talk about and continue to discover."

Steven Spielberg
Spielberg and team work on the scene with the sick Triceratops. At least seven puppeteers were required to operate the puppet.