10 Awesome Facts About Utahraptor
Saturday, December 10, 2016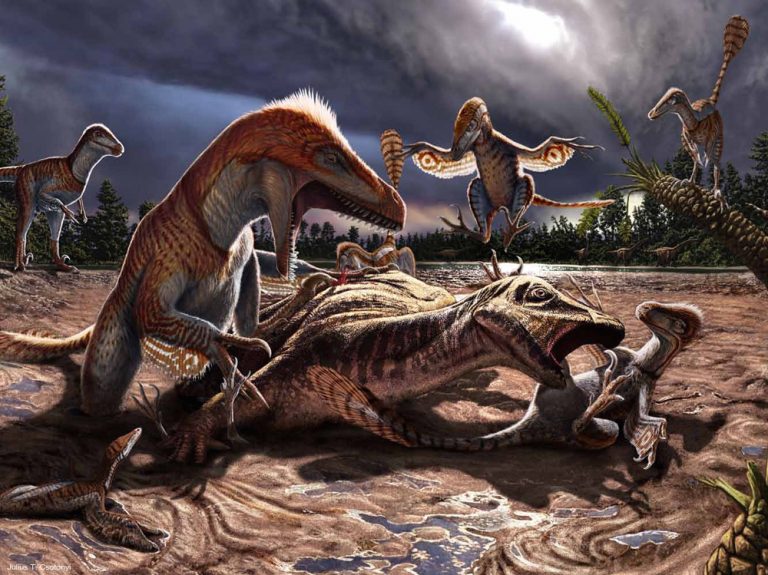 During the Jurassic Park-crazed early '90s, Utahraptor became a media darling. Now, more than 20 years later, some great new finds just might push this predator back into the limelight.
1. IT WAS ONE OF THE WORLD'S LARGEST "RAPTORS."
Scientists call Velociraptor, Microraptor, and their kin "dromaeosaurs" (the unofficial raptor nickname is way cooler, though). At around 18 feet long, Utahraptor could have easily been the biggest of the bunch. However, Asia's impressive Achillobator giganticus might eventually give it a run for its money—if some more complete skeletons emerge.
2. WALKING WITH DINOSAURS (1999) PUT UTAHRAPTOR ON THE WRONG CONTINENT.
During an epic scene from this now-classic miniseries, a Utahraptor pack goes Iguanodon hunting through Europe. As you've probably deduced, Utahraptor was originally found well within the U.S. (care to guess where?) and, so far, this animal has left no trace across the pond.
3. THE CARNIVORE WIELDED TERRIFYINGLY-HUGE TOE CLAWS.
To Hollywood, brandishing nasty, hook-like claws on each foot is basically the raison d'etre of any dromaeosaur. At their bony cores, Utahraptor's were 9 inches long apiece, and the nails themselves were probably 15 inches!
4. IT WASN'T THE ONLY "RAPTOR" IN TOWN.
5. PALEONTOLOGIST ROBERT BAKKER MADE A CLEVER UTAHRAPTORTHE STAR OF HIS FIRST NOVEL.
6. UTAHRAPTOR IS PART OF AN INTERESTING EVOLUTIONARY TREND.
7. UTAHRAPTOR CRASHED THE PILOT EPISODE OF PRIMEVAL: NEW WORLD.
The creators of this time-traveling drama gave their Utahraptor a fluffy, bird-like coat. While there's no direct evidence for feathers in this particular genus, the dino's celebrity cousin Velociraptor is known to have rocked sturdy ones upon its lower arms.
8. IT WAS ALMOST NAMED AFTER STEVEN SPIELBERG.
That's when a golden business opportunity came a-knocking. The highly-anticipated Jurassic Park had already entered pre-production, so Kirkland contacted JP's director and offered to dub his dino "Utahraptor spielbergi" in exchange for fieldwork funds. Regrettably, Kirkland's plan bore no fruit, and the name U. ostrommaysorum was chosen instead. (C'mon, Spielberg: Whatever happened to "Spared no expense?")
9. A UTAHRAPTOR GRAVEYARD AWAITS FURTHER STUDY.
To date, our understanding of Utahraptor has been woefully incomplete, since the dinosaur's known from very few specimens. But that's all about to change: A 16-foot adult, four adolescents, and a three-foot baby were recently found together in the Utah dirt. This haul includes Utahraptor bones we've never seen before, and the fact that so many were found in close proximity might even offer clues about dromaeosaur social lives. "We're really going to have a different view of this guy," says Kirkland, who's been overseeing their excavation.
10. SEVERAL SKELETONS WERE TEMPORARILY LEFT IN A PARKING LOT.
Article first appeared on www.NationalGeographic.com